LEARN HOW TO KITESURF IN A SAFE AND EFFECTIVE WAY
INTRODUCTION
LESSON
Make the first steps as a kitesurfer
and enjoy a nice day out!
3 DAYS
COURSE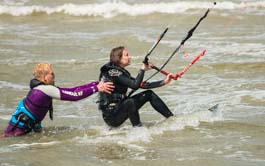 Learn the basic of kitesurfing. 3 days and you can surf few meters.
5 DAYS
COURSE
Do you want to get a real kitesurfer.
Then this course is for you.
FREESTYLE OR
WAVERIDE
Learn jumping, or surf the waves of the North Sea on your board.
Radio Communication

Direct Coaching: Through our lessons we use radio communication. The importance of understanding the instructions through the surf lessons is number 1. Through the portable radio, your instructor will always be able to reach contact with you.
More freedom: There is no better feeling than freedom on the water either with body dragging or actual kitesurfing, but it can happen that you need some instruction/help from your instructor, and therefore we have the portable radios. Safety and freedom at the same time.
I want to kitesurf, but where, what and when?
The sport of kitesurfing is depending on the nature, most of the wind. Our kitesurf school have several good locations, which makes it possible to kite under most wind directions. The location of your lesson will be discussed before the lesson, each location has different plus points.
On each location is the circumstances different, and therefore we always keep in mind the wind direction, strongness and quality.
Contact us to book your lesson(s). With your given dates of choice, we then confirm whether that is possible. When all that is done, we plan the time of day. We will be flexible about time and dates.

The evening before your lesson, we will contact you, you settle the last information as weather and wind. With the weather and wind, we will choose the best location for your lesson and time.
When the wind is too weak (less than 3bft) or too much (more than 6bft) on the scheduled time, we will have to plan the lesson to another day, while safety is first priority!

Unfortnately is the weather forecast not always 100 % true. It therefore is possible that meantime your lesson, the wind/weather either gets too less or too much. In that case, we will stop the lesson and plan a new day to continue.
The kitesurf grouplessons by North Sea Kitesurf School is 3 hours. Every day is possible from sunrise to sunset. The time of day suits your calendar.
Normal time of course start is the below times, if it doesn't fit in your calendar, we will figure that out together.

Morning course start: 10:00
Midday course start: 14:00
Evening course start: 18:00/19:00 (depends of when the sunset is)
Kitesurfing Material By North Sea Kitesurf School quality is a priority, and we only use material that we also would use on the water ourselves. That means you will always have the newest material within your lesson(s).
Our wetsuits are 5.4 mm thick. Nice and warm suits, which will keep you warm in the water.
We love supporting local designers, so offcourse we use the local brand Kites, the Harlems from kitesurfshop Haarlem

Within all lessons and course, the material is included; Kite, board, bar, wetsuit, impactvest and shoes and gloves when needed.
Not included in the lessons and courses: Please bring your own towel. Something to drink and eat is always nice after hours of workout!
The most comfortable is a tight pair of swimming pants or bikini/swimsuit
ZANDVOORT
Straight on the beach in Zandvoort South.
Our main location is
Zandvoort aan Zee
We are located by the beachclub Safari Lodge. Zandvoort is 20 min from Amsterdam
For more information about Zandvoort aan Zee.
MEDEMBLIK
Medemblik is also a nice location for courses
Good kitesurf location for lessons
With east wind, Medemblik is the perfect location. Medemblik is around 50 min drive from Amsterdam.
For more information about kitesurfing in Medemblik.
MUIDERBERG
Muiderberg is a good location with north winds
The kitesurfspot with north winds
Hiphigh flat water and north winds!
Muiderberg is 30 min drive
from Amsterdam.
More information about kitesurfing in Muiderberg.
SCHELLINKHOUT
Schellinkhout is our flatwater spot
Flat water
kitesurf location
With east winds Schellinkhout is a good spot, with hiphigh flat water.
30 min drive from Amsterdam
More information about Schellinkhout.